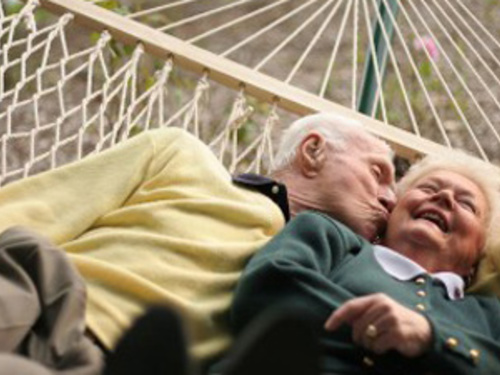 So, how do you celebrate your grandparents?
Some of us don't know what do with our grandparents, so we end up doing nothing. The important thing is to keep in touch with your grandparents and to help keep them as active as possible.
I know we're all busy, but if you can work your grandparents into your weekly schedule, you can strengthen that family connection.
Every grandparent is different, and some still have a lot to offer. My parents were both outstanding high school teachers, so this fall we started including them in the home-schooling of our 10-year-old daughter.
She spends every Tuesday afternoon learning Shakespeare from her grandfather and then French from her grandmother. Both grandparents are thrilled to share their expertise with their beloved granddaughter.
We also have met a 79-year-old lady at church who has become like an honorary grandmother. She has grandkids in other states, but none here in Ohio. Our daughter enjoys going to this lady's house to sew, to hang out by the lake or to explore the property in a four-wheeler.
Your grandparents may need a ride to the doctor, the grocery store or even the cemetery to remember a loved one. The key is to get to know your grandparents and figure out what they like to do.
You can also help grandparents stay active physically and mentally by putting them in touch with other people their age. Some towns have senior centers, which get people together for bingo, cards and bus trips.
A great way to honor your grandparents is just sit and talk to them. They have a lot to share because they've lived a long long time. They've seen a lot, they know a lot and they want to talk a lot. Sometimes that's the one thing they have left, when their bodies fail them, is the ability to communicate with you.
The best thing you can do is to remember your grandparents for as long as they are here, because we can never repay them enough for everything they have sacrificed for us. Life is so precious. Don't let it be too late. Don't let the next time you see them is in their coffin. Go spend time with your grandparent.