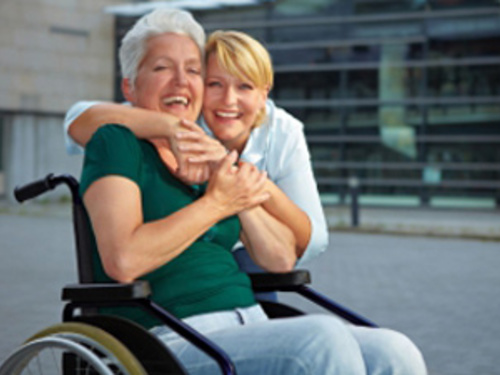 The idea of growing older as a person with Spina Bifida causes me some anxiety. I think this is because there aren't many elderly people with the most severe forms of Spina Bifida when compared against the much higher number of people with the disability who were born in the 70s and 80s.
I understand that Spina Bifida on its own is not determined to be a disability that limits life expectancy but I do have some anxiety over how my life could be different if my mobility is diminished or if there are any secondary conditions that I may be prone to acquiring due to my current disability.
Here are 10 tips I've come up with that may help people with like myself disabilities adapt to the challenges of aging.
1) Begin considering your future now.
Nobody likes to think of a day when they might not be able as active, mobile or as healthy as they are right now. Unfortunately, it's a reality that arrives for everyone sooner or later. But, in the case of many people with disabilities it's a reality that is even more likely because of their existing health conditions. It's important to take preventative steps and plan now to ensure a better tomorrow.
2) Stay as physically active as possible by exercising every day.
The recommended sixty minutes of daily exercise is possible for everyone including those with disabilities. This can be achieved by walking, hand-cycling, swimming, playing an adaptive sport or by doing exercises with free weights and resistance bands. Consult your doctor before trying a new exercise routine to ensure it's the right approach for you.
3) Carefully plan and monitor your diet.
This is one of the most difficult aspects of preserving your health as it's so easy for all of us to eat what's convenient or to indulge too much in foods that are not good for us. However, excess weight and obesity is the single most common way in which most people acquire secondary health conditions that can quite dramatically limit the mobility and independence of people with disabilities. It's important to take your diet seriously even if it means finding a way to love more fruits and vegetables
4) Drink lots of water.
Water is the ultimate filter for many of the bad things that come into our bodies. Drinking more water will keep you hydrated, improve your skin tone and will also help to ease strain on your kidneys which can be very important for anyone impacted by paralysis below the waist.
5) Visit your doctor regularly for check-ups.
Let's face it. We've all seen our share of doctors. In fact, I'm sure every person with a disability has had the unfortunate experience of having to deal with a tardy, inattentive or arrogant practitioner. Regardless, while doctors can lack bedside manner and may not know everything, they do have specific knowledge and technology at their disposal that can help you identify and manage health concerns. Take their advice with a bit of salt but always consult them regularly and seek a second opinion when necessary.
6) Maintain and enhance your relationships and social circle.
Happy people are healthier people. Being a good friend and a support to others will likely ensure you will also have the same support from family and friends when you need it most.
7) Seek support from others who have a similar disability.
Blogs like this one and other social media platforms on the internet can be great places for all of us to form relationships with others who experience a similar disability. Get to know people and you'll be able to ask questions and seek advice from others who have been through similar health challenges.
8) Keep yourself informed about emerging technologies.
Advances in technology are currently happening at a feverish pace. As a result, technologies could soon be developed that will improve accessibility, mobility and the overall health for many people with disabilities. Keep an ear to the ground on breakthroughs that could personally help you.
9) Plan your living accommodations with the long term in mind.
Where you rent or own a home, it's important to consider your long term future when you are considering where to hang your hat. Living in a home that is fully accessible for your needs and one that is close to amenities, heath services and public transit can be very important to your future.
10) Consider and research an alternative career plan if necessary.
Not everyone has the luxury to be able to stay gainfully employed in the same career over the course of their lifetime. Mobility and health issues could make it necessary for you to change careers at some point. Planning for this by working diligently on a hobby, doing some additional work on the side or by volunteering in a capacity away from your regular work could one day open up doors to a new career.